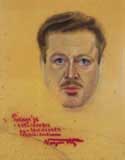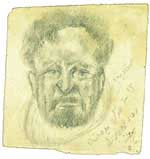 NÂZIM AS PAINTER
Nâzım probably took up his affection of painting in evaluation of his mother.
For Cemile, painting was not a hobbyhorse taken up by a bored rich woman, but a passion. It was said she gave up her home and her all belongings to go to Paris to paint.
In the years we lived in Kadıköy, Nâzım, my mother and I used occasionally to visit her. Her rooms were filled with her paintings. Her house was exactly a painter's house. Clearly, she thought about nothing but painting.
She lived alone, but was always well-dressed. She was remembered as a person passionate about beauty.
Finding her make-up excessive, Nâzım would get upset and tell her "I'm leaving right now unless you wipe that off your face," and he'd head to the door.
When Celile would leave to remove her make-up, my mother would whisper, "Nâzım, why must you do that, why can't you understand that she paints her face the way she'd paint a picture!"
I used to watch and wonder where all of this would lead...
I first saw Nâzım making pictures in the years when we lived in the Mithat Paşa mansion. But these were not oil paintings or works in crayon. Either in charcoal or soft pencil, I'm not sure which, he was sketching the profile of everyone in the house. Like those street artists who draw your portrait for a fee.
One day he had created a apace for himself by placing Adnan's drawing board in front of the fireplace in the living room. We each went and set for him by turns. He could really capture a similitude.
As usual, Vedat Başar was out for the fun of it. "Nâzım, you'll never starve," he'd tell Nâzım, calculating how much he'd make if he set up shop on fairgrounds.
I believed those portrait sketches to have been lost. Many years later, when I was at the offices of Adam Publications in Maslak, Rasih Nuri İleri's son Suphi Nuri İleri, who worked at the Encyclopaedia AnaBritannica upstairs, dropped in with two of Nâzım's portraits. "My father found and bought these in a bookshop," he said, "I wanted to show them to you." They were the portraits of Vedat Başar and my aunt Leman. I was startled. How had they ended up with a book handler?
Vedat Başar was the husband of Fifi, my aunt Fahamet. Aunt Leman was a dear friend of Fifi's, so I called her "aunt," too. When we lived in the flat in Kadıköy, she was living with us; and when we lived in the Mithat Paşa mansion, she'd frequently come spend the night.
Who knows where the other sketches has ended up? My grandmother, Fifi, my mother, Aunt Selma, Adnan, I, each one of us in the household, we had all in turn sadt for Nâzım.
That is the only day when I remember seeing Nâzım make pictures.
And then there were the sketches he made in books while reading. In general, these were sketches of ships, sails, flowers, hands, eyes, ferocious faces.
His passion for painting came to the fore first in the İstanbul Jail, it got going fullblast in the Çankırı Prison. Oil, gouache, crayon, charcoal. Views of the interior of the prison, of the inmates, of Piraye, and selfportraits. He continued to painting, with increasing intensity, in the Bursa prison.
I believe he found it a distracting activity.
There were times when he would declare, "These days I'm involved in nothing but painting," and indeed he'd quit doing anything else.
It is said that he stopped painting once Balaban detected the talent in him and made him a present of all his painting utensils. But once, when I had been to see him during his hunger strike in the Üsküdar Paşakapısı Prison, he conveyed the delight he felt at being able to introduce to me his relative Mehmet Ali Aybar, and said, "We're painting together; he's a better painter than I."
I don't know whether he continued painting in Turkey or in the Soviet Union, after he left prison.

From the look "Gölgede Kalan Yıllar".
Memories of Memet Fuat,Nâzım's stepson.